2015 Tariff are still at 2014 prices
This price is for upto 100 guests for a hire duration of up to 3 hours (extra hours can be arranged).
Please add £1.00 per person for any number exceeding 100 on Silver Package and £1.50 on Gold Package
BRONZE PACKAGE
Hire of Cart, Roof, Glass wear, Tongs,Scoops and
Paper Bags
£130
SILVER PACKAGE
As Bronze plus choose 10 different sweets
£230
GOLD PACKAGE
As Silver plus one Ferrero Rocher Tower containing
approx 60 Ferrero's
And 150 Luxury Chocolates
£295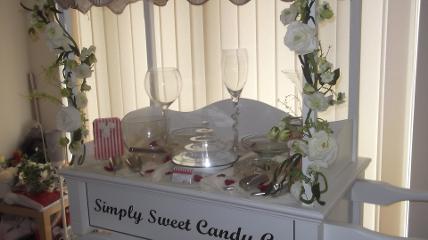 WISHING WELL / POST BOX HIRE
This price is for wishing well / post box hire for a duration of 3 days.
So giving you time to pick up the day before and drop off the day after your special day, extra days will be available subject to availability and extra daily hire cost.
WISHING WELL
The hire of a Wishing well complete with garland and Make a Wish sign for 3 days is £30.00....
The hire of a Post Box complete with stand for 3 days is £40.00....
To hire the Wishing Well or Post Box for extra days will be £10.00 per day....
All the above is for collection only from CO16 9RW, delivery and collection can be arranged for a charge of £0.50 per mile on each trip...